Dietary supplement manufacturers are facing more competition than ever from the functional foods market. Dietary supplement manufacturers are responding by combining a greater variety of vitamins, minerals, amino acids and nutraceuticals into tablet, capsule and soft gel supplement formats. It becomes even more critical in dietary supplements where even distribution and consistent particles size are essential to proper tablet compression and capping.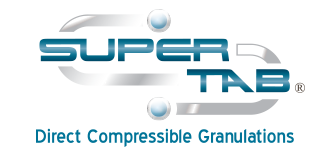 Rather than outsource granulations from a third-party manufacturer, we've committed to developing technologies and processes in-house to effectively and efficiently manufacture SuperTab® direct compressible granulations and drum-to-hopper blends that deliver potency and function that you demand.
Possessing excellent flowability and compression properties, SuperTab® granulations:
Deliver essential nutrients in uniform free-flowing granular powders ideal for high-speed tableting processes
Supply desired nutritional levels in concentrated dosages
Possess excellent stability & consistency within tablets & exhibit improved tableting characteristics
Can be incorporated into custom drum-to-hopper tablet blends, creating a single-step addition which increases productivity and reduces errors throughout your production process
Are stringently manufactured to deliver uniform particle distribution and high bulk density
Are thoroughly tested for potency & performance and accompanied by a complete Certificate of Analysis
Offer flexible batch or bulk packaging options, which lead to reduced processing errors & costs, enhanced product homogeneity and improved line productivity
SuperTab® Oyster Shell Granulations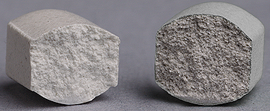 SuperTab® Oyster Shell calcium carbonate is produced from shells naturally-harvested from undersea beds in the San Francisco Bay and are believed to be thousands of years old. TWG sources the high purity, genuine shells from a domestic supplier.
While calcium carbonate suppliers claim to offer oyster shell ingredients, some simply offer naturally mined limestone powder or other types of shells. The photo shows calcium supplement tablets broken open. The tablet on the right is a genuine oyster shell calcium supplement made with oyster shell ingredients supplied by TWG. The tablet on the left is made with a competitor's ingredients and is also marketed as a oyster shell tablet. Ask yourself: Have you ever seen a white oyster shell?
When all is said and done, The TWG simply offers a higher standard of purity and quality with its SuperTab® oyster shells. They go through a rigorous screening and testing process and exclusive double-was technology to ensure you only get the highest quality formulations. Insist on SuperTab® Oyster Shell authenticity in your formulation. Contact us today to get started on your next food and beverage product.
Drum-To-Hopper Custom Premixes

SuperTab® products maximize nutrient potency in compact applications. TWG custom formulated drum-to-hopper nutrient solutions present an effective, single-step alternative to individual supplemental ingredient purchasing. Engineered to maximize the efficiency of your production process, these custom formulations include SuperTab® direct compressible granulations along with vital compression and flow agents to ensure only the best results. As with all our products, each blend is thoroughly tested and verified to deliver the highest standards precise amount of vitamins, minerals, nutraceuticals and other micronutrients.
Wright Drum-to-Hopper custom formulations can also:
Incorporate any combination of coated SuperCoat® ingredients, uncoated nutrients, SuperTab® direct compressible granulations and micronutrient triturations
Improve consistency (homogeneity) throughout your product, ensuring even distribution of nutrients
Be packaged in custom batch-specific quantities according to your specifications, leading to a reduction in production errors throughout your manufacturing proces