let us quench your thirst for new ideas
Beverages are a good system for functional ingredients since flavoring / sweetening systems can often mask unpleasant tastes from functional ingredients. Microemulsion value-added ingredients work better since they are not subject to cooking or mechanical stress as in food production.
Top Trends in the Beverage Industry
Natural Coloring
Natural Low Calorie Sweetening
Beyond Hydration
Easy-to-Understand Functionality
Exotic Flavors and Super Fruits
Prebiotic fiber/ Probiotics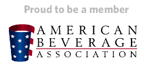 Contact us today to get started on your next food and beverage product.